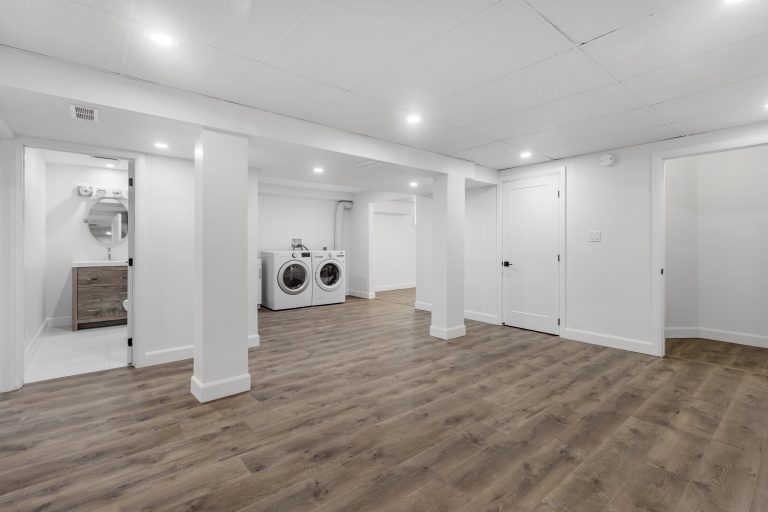 Reliable Basement Finishing Services in Washington DC
Do you have an incomplete basement in your house? Do you see signs of water damage and moisture in it? If yes, then it is something that you should not ignore because eventually, these damages will affect your home's foundations. DMV Home Improvement LLC offers reliable basement finishing services in Washington DC, to transform your un-finished basements into a livable and functional space. The goal of our services is a simple one; you will get a clean and healthy extra space to live in by minimizing structural hazards for your home. Our experts will use the right products and materials so you can rest assured that your investment is money well spent.
We have a variety of finishing products and designs available at our company. We use only these products in our reliable basement finishing services in Washington DC, because they can withstand moisture and water damage. We will ensure to install quality finishing material that will remain unaffected from mold and moisture damage for a longer time. Give us a call to schedule our services and take advantage of our industry-leading solutions of waterproofing and basement finishing. You can also request a free estimate over the call.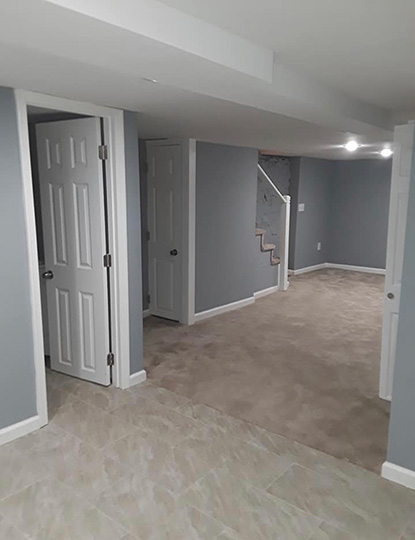 You've set your mind on conquering the beast of home improvements, the basement.
The basement is an area that requires strategy and savvy craftsmanship when renovating. It is not a job for the faint of heart. There are several things that you must think about when considering a basement finish or remodeling project.
What plans do you have for the basement?
Will it be a recreation room, family room, in-law suite or man cave? Sky's the limit but make sure you have a vision in mind.
What features do you plan on incorporating into the basement?
Think about the windows, doors, ceilings, lighting, storage and flooring options that you want for the space.
After considering your plans for the space it's time to bring in your finishing or remodeling team. Whether you know it or not, it's important to get the experts in on this one. It's possible to Do-It-Yourself but there are so many parts to this that we just don't advise it. Hiring a competent renovation team is important for basement renovations because they require things such as:
Testing for moisture, rot, mold and insect damage
Checking for fuel-burning equipment and ventilation
Checking and planning for height clearance codes
Possibly moving air ducts and lowering concrete floors
Electrical and plumbing works
And there is a host of other basement components. But no worries with the help of a competent renovation team we can handle this elephant one chunk at a time.
To get prepared for this task it's important to plan and take into account any issues that may be affecting your basement as that can be the difference between a budget-friendly finishing or remodeling or something that turns into more than you wish to invest. Have a conversation with your finishing or remodeling team about things such as:
Maybe you live where you have an HOA that requires you to get permission before you make any additions to your home. Basement renovations are similar. They often require that you get permits to renovate the space and it is the homeowner's responsibility to get them. And yes, they do cost.
Moisture is a no-no for basements. And a vapor barrier is needed for both the walls and the floors.
It's important to keep out the cold and keep in the warmth. Especially during the different seasons. No one wants a hot and humid basement in the summer and an icebox in the winter. You have many options here like spray foam insulation or other choices.
Ceilings and Electrical Work
Depending on your style you may want either a drop ceiling, those egg white-colored panels you remember from school or something more like wood panels or drywall ceilings. Whichever you choose, be mindful of the ease of access to electrical work underneath in the future.
Your HVAC unit and the water heater is one area of the basement that cannot essentially be finished. This section of the basement needs to be open and unfinished to allow access for inspection, repairs, ventilation and to follow coding regulations. But don't worry, you can still plan to make this part of the basement look nice and follow the code requirements.
Contact DMV Home Improvements
So we can help make your Basement Finishing dreams come true.